Dr. Gutman's
Regular price
$22.00
Sale price
$18.95
Unit price
per
Sale
Sold out
Experience the transformative power of magnesium with Dr. Gutman's® Magnesium Glycinate, an ultra-absorbable supplement engineered for your health and well-being.
Research has found that approximately 50% of people in the US have magnesium deficiencies, but rarely display symptoms as the kidneys limit its excretion. The recommended daily intake of magnesium varies depending on age and gender, typically between 310 and 420 mg/day. Despite the necessity of magnesium, many fall short of the required intake, making supplementation crucial.
Dr. Gutman's® Magnesium Glycinate, a compound formed by elemental magnesium and the amino acid glycine, offers an easily absorbed and well-tolerated form of magnesium, a significant upgrade from other forms like magnesium oxide which are poorly absorbed.
The benefits of Magnesium Glycinate are manifold, as it helps:
Alleviate anxiety
Promote bone health
Regulate blood sugar levels, beneficial for people with diabetes and potentially lowering the risk of type 2 diabetes
Maintain normal heart rhythms
Reduce premenstrual syndrome (PMS) symptoms
Enhance exercise performance
Reduce pain
It has also shown promise in improving conditions like fibromyalgia, chronic fatigue syndrome and reducing the risk of stroke, heart failure, and diabetes.
People with conditions affecting magnesium absorption such as diabetes, IBD, or those on certain medications might particularly benefit from magnesium supplementation. Our supplements come in a convenient pill or powder form that you can take with food to minimize stomach upset.
Despite its many benefits, magnesium intake needs to be monitored. Overconsumption is generally rare as our kidneys eliminate the excess, but symptoms can include low blood pressure, nausea, vomiting, and irregular heartbeat. If you're taking other medications, consult with your healthcare provider for potential interactions.
Dr. Gutman's® Magnesium Glycinate is produced in an FDA-approved facility in the United States and is independently tested and NSF-Certified, meaning each bottle meets the highest standards for purity and potency. It is Organic and Non-GMO, Vegan-friendly, and Vegetarian-friendly, fitting seamlessly into your lifestyle and dietary requirements.
Imbibe the benefits of Magnesium Glycinate and invest in your health today with Dr. Gutman's®.
*These statements have not been evaluated by the FDA and are not intended to diagnose, treat, cure, or prevent any disease or health condition.
Share
View full details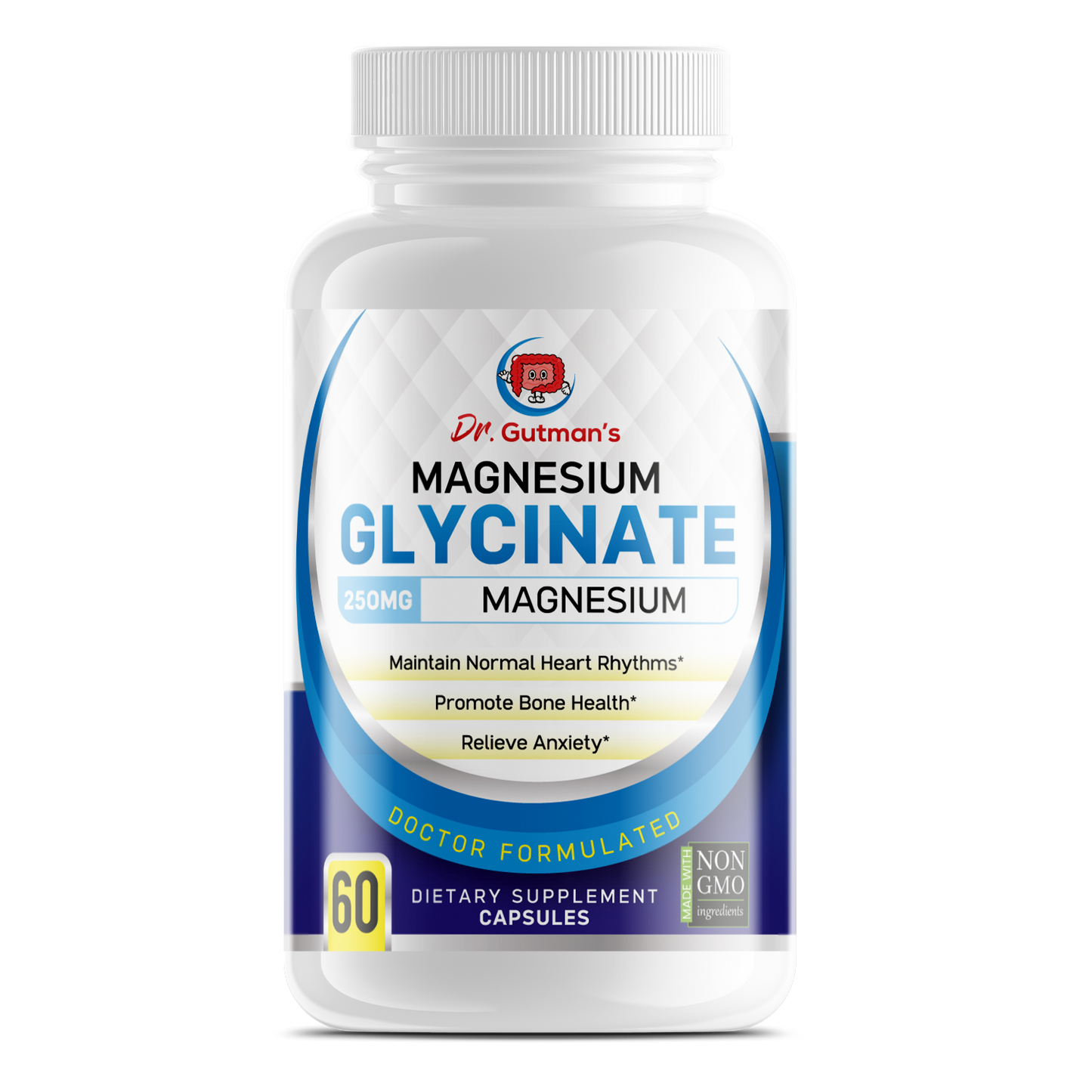 Features of our Products
Highlights

Supports digestive and immune health*
Uses third-party independently tested ingredients that are made in the USA, GMP certified and made in an FDA and NSF registered facility.
Uses vegetable capsulation with nontoxic ingredients, doctor-formulated, gluten-free, non-GMO, vegan-friendly, vegetarian, and corn free.*
*These statements have not been evaluated by the Food and Drug Administration. This Productis not intended to diagnose, treat, cure or prevent any disease